Data coverage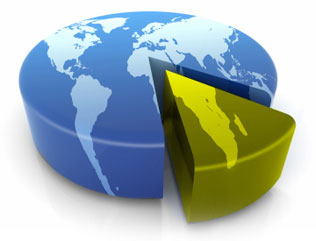 In these challenging economic times it is more important than ever before to look beyond your usual business boundaries and identify new potential markets. Mintel Market Sizes is perfectly placed to support preliminary business research into new markets, and act as a guide in defining further research requirements.
Before making significant research investments Mintel Market Sizes will support initial corporate due diligence, understanding market share, core activities and global competitive environment. Very quickly you'll be able to assess a markets viability in terms of whether it is attractive and penetrable. Utilising Mintel Market Sizes's trusted market data gathered from transparent global sources you can accurately profile specific categories across a number of markets, directly supporting your strategic planning.
Locations
Europe
Austria
Belgium
Denmark
Finland
France
Germany
Italy
Netherlands
Norway
Poland
Portugal
Russia
Spain
Sweden
Switzerland
Turkey
UK

North America
Canada
USA
Latin America
Brazil
Chile
Colombia
Mexico

Asia Pacific
China
India
Indonesia
Japan
Malaysia
Philippines
South Korea
Thailand
Vietnam
Australasia
Australia

Africa
South Africa

Industries
Mintel Market Sizes will expose market characteristics within the following industries:
Alcoholic Drinks
Automotive
Beauty, Personal Goods, Toiletries
Clothing, Footwear & Accessories
Consumer Electronics
Electrical Goods
Food
Food Service
Holidays & Travel

Household/Home
Leisure & Entertainment
Media
Non Alcoholic Drinks
Personal Finance
Pharmaceuticals
Retail
Telecommunications

Subscription packages are very flexible
Subscription packages are very flexible. Whatever your requirements we'll work with you to tailor your access to exactly the geographic and industry coverage your business needs. You can be assured you're using the best-in-class data when investing in Mintel. We are proud of our heritage and Mintel data is relied upon and trusted by the world's leading brands.